My 10-minute drama, I, Carpenter is a hit!  Read the highlights from the rave review at NYTheatre.com below!  Presented in an evening of seven other terrific short plays from The Writers' Forum at Manhattan Theatre Source.  Now extended with 4 Encore performances: Thurs-Sat., Feb. 17-19 at 8pm (Feb. 19 matinee at 3pm).  Don't miss it!
I, CARPENTER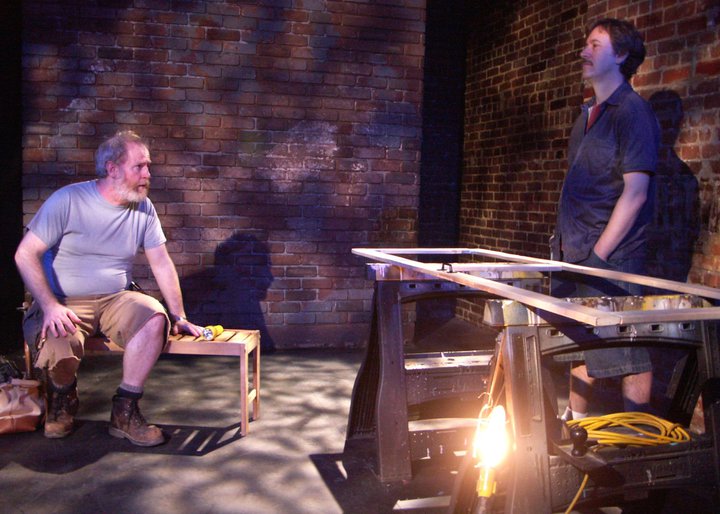 Written by Greg Oliver Bodine
Featuring: Greg Oliver Bodine* and Michael Selkirk* (*member AEA)
Directed by Leah Bonvissuto+ (+member SDC)
On a quiet, summer evening, a master carpenter named Rick is found finishing a suburban, backyard gazebo by his younger boss, Scott.  I, Carpenter explores the consequences of taking away one's reason to be when that reason is simply to work.
January 12th, 2011 Review at NYTheatre.com:
"Also impressive is Bodine's own work as playwright, I, Carpenter, the final and most powerful piece of the evening."
"It's a modest but gripping piece, and treats the lives of working-class Americans with a truthfulness that is all too lacking in contemporary theatre."
 
"The play is also acted with startling honesty by Bodine, just as comfortable playing a blue-collar New Yorker as a Russian aristocrat…"
 
Read the entire InGenius review online at: http://nytheatre.com/showpage.aspx?s=inge11972
A part of…
InGenius 2011
Voices from  the Writers' Forum
An Equity-approved showcase
Wed. – Sat., January 12-22 at 8:00pm
Sat., January 22 at 3:00pm
EXTENDED with for (4) Encore performances: Feb. 17-19!
Manhattan Theatre Source
177 MacDougal Street
New York, NY 10011
Betw. Waverly Place and W.8th St.
(1 block north of Washington Square Park)
A/C/E, or B/D/F/V to W. 4th St.
Tickets: $18

The evening of eight short plays penned by the members of the Source Writers' Forum will also include:
What Is This?
written by Jen Thatcher
directed by DeLisa White
featuring: James Edward Becton* & Bennett Harrell
Lips Upon Cheeks
written by Alaina Hammond
directed by Michael Bordwell
featuring: Ken Coughlin & Jessica Lynn Jennings
Impossible to Leave
written by Laura Schlachtmeyer
directed by Lory Henning
featuring: Julie Allen, Mark Levy, Ross Pivec, DeLisa M. White, James Edward Becton & Vincent Marano
Destination
written by Vivian Neuwirth
featuring: Vivian Neuwirth, Steven Schnetzer
Misery, Apathy and Despair
written by John McKinney
directed by DeLisa White
featuring Elizabeth Fountain, Annalisa Loeffler*, Greg Oliver Bodine* & Quinn Warren
Deuteranomaly
written by Jessica Fleitman
directed by Havilah Imfeld
 My Baby
written and directed by Vincent Marano
featuring: James Armstrong*, Sarah Baskin*, Tod Engle*
I, CARPENTER in the InGenius 2011 Short Play Festival EXTENDED: Feb. 17-19!