I have the ridiculous pleasure of performing a one-man show I premiered in New York 4 years ago and have since taken on the road to perform at numerous colleges, festivals, resorts, museums and historic hotels. POE, TIMES TWO is a double-bill of short, one-man plays adapted from two classic stories of mystery and horror, "The Cask of Amontillado" and "The Black Cat", by Edgar Allan Poe.  Directed by DeLisa M. White.   One actor.  Two classic horror stories.  A must-see for Poe enthusiasts and fans of mystery and horror.  Don't miss it!
POE, TIMES TWO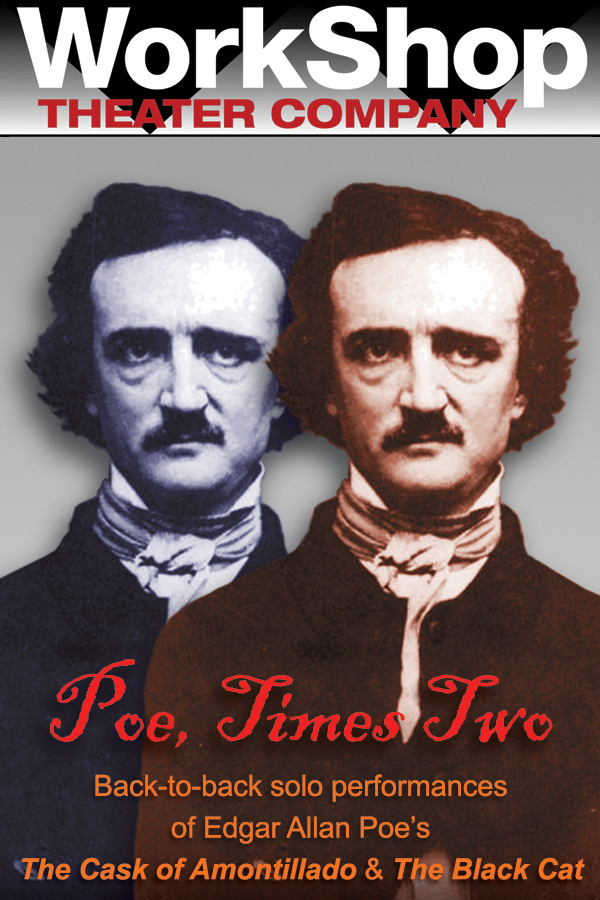 Twin tales of mystery, murder… and mortar
Written & performed by Greg Oliver Bodine
Directed by DeLisa M. White
Costume Design: Jeanette Aultz
Lighting Design: Richard Kent Green
Sound Design: Charles Jeffreys
Asst. Director / Stage Manager: Stefania Diana Schramm
Producing Director: Kathleen Brant
Back-to-back solo performances of The Cask of Amontillado and The Black Cat, by Edgar Allan Poe.  One actor.  Two classic horror stories.
Check out our rave reviews:
Bloomberg Radio
POE, TIMES TWO
10/28 Review by Joe Franklin
 "In POE, TIMES TWO, Adaptor / Performer, Greg Oliver Bodine, dramatically renders the stories of "The Cask of Amontillado" and "The Black Cat" with intelligence, humor and a serious appreciation of Edgar Allan Poe's understanding of our fears and madness.  Ably directed by DeLisa M. White, with excellent production elements in this intimate space, POE, TIMES TWO provides an evening perfectly suited to this season of late October and early 'bleak November!'"   
New York Theater Buying Guide
POE, TIMES TWO
Review by Ronald Gross
Oct. 27, 2011 – "No holiday is more theatrical than Halloween, with its invitation to indulge our imagination through costume, props, and performance ("Booooo!!!").  So what better way to celebrate it than at a scary, stunningly staged, high-fright homage to the creator of the horror story.
 
You probably have a vague recollection of Poe's stories such as the ones presented here: The Black Cat and The Cask of Amontillado.   These two one-actor plays re-awaken all that youthful enjoyment of their uncanniness.  You'll be chillingly scared and eerily spooked.  But these renditions also reveal the works as far more intricate, interesting, and important than merely being the origins of the genre of short horror fiction.   They are portrayals of states of mind that challenge everything we assume about ourselves as rational beings. 
 
In The Black Cat, a condemned man is composing his final testament on the eve of his hanging.   Why, he is seeking to discover, did he perform the unnatural acts which brought about his own destruction.   The answer – Poe's infamous "imp of the perverse" – calls into question whether we each have within us an irrepressible impulse in this direction – what Freud called the Death Wish.
 
The Cask of Amontillado, in Mr. Bodine's expert hands, also reveals itself to be far more than a grotesque tale of revenge.  It is a portrait, reminiscent of Browning's dramatic monologues like  My Last Duchess, of the European aristocrat as proto-Fascist: a man in whom the concept of tribal Honor, gone beserk, creates a monster.  
 
The solo performer of these gems, Greg Oliver Bodine, is an actor of extraordinary natural gifts which he has honed to the highest professional acuity.   With his agile face he can evoke emotions from scorn and amusement, to horror and despair.   He connects with us tangibly, and he completely "inhabits" his characters' fast-changing moods.   These two performances are supreme exemplifications of acting at its highest reaches.
 
Kudos too to the masterful director, DeLisa M. White, the Scenic/Innovative Designer Richard T. Scott, the Lighting and Sound wizards, Richard Kent Green and Charles Jeffreys, and the costumer, Jeannette Aultz.  What a Creative Team!
 
BOTTOM LINE: Our highest recommendation! Two classic Poe short stories, brought to astounding life on-stage by one of our most talented actors, in a perfect homage to the season."
Wednesday – Saturday, Oct. 26- Nov. 5 at 8:00pm
A Special Event in the Jewel Box Theater
Tickets: $18; $15-Students/Seniors

WorkShop Theater Company
312 West 36th Street,
Fourth Floor East
New York, NY 10018
Between 8th and 9th Avenues
www.workshoptheater.org
Join us for an evening of thrills and chills —  A perfect treat for the Halloween season!
POE, TIMES TWO at WorkShop Theater Company, Oct. 26 – Nov. 5 at 8pm