I'll be joing the cast of LETHE,  by Fredric Sinclair, in a concert reading at The Players Club in Gramercy Park to benefit Safe Horizon: Friday, June 10, 8 pm.  Directed by Ann Farthing.  Tickets $25 or $50 with reception.  Tickets: http://www.brownpapertickets.com/event/160438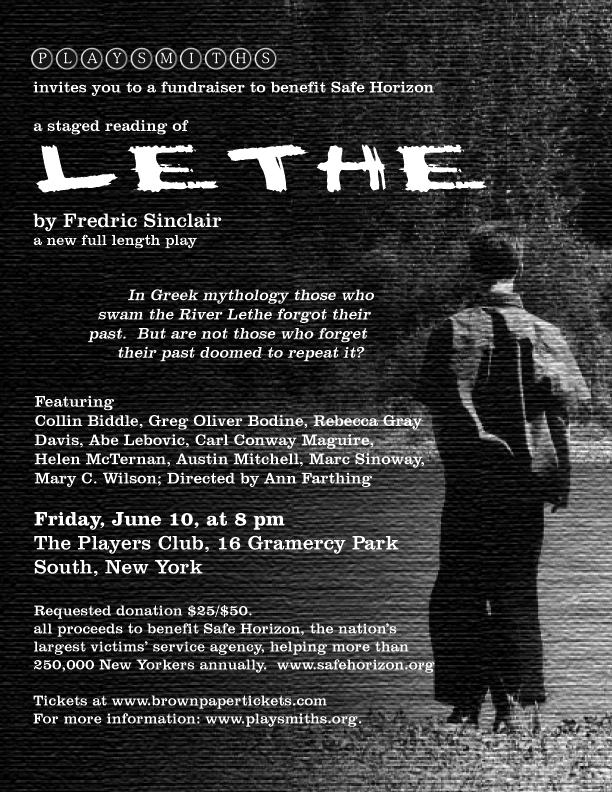 I'll also be in a reading of Sergei Burbank's new full-length play, ALL'S FAIR (SIX WESTERN), part of Planet Connections' 2011 Theatre Festivity.  The reading will benefit Reporters Without Borders and is produced by Conflict of Interest Theatre Co.  Directed by Leah Bonvissuto.  June 13 at 2:00pm in The Robert Moss Theatre, 400 Lafayette St in NYC.  Tickets and show info: http://planetconnections.org/allsfairsixwestern/  Please join us for the audience talkback to follow!
Emily's Patterson's husband is held captive in Palestine. Working for his release, she discovers an ongoing affair with his ex-wife. When he seemingly returns out of thin air, Emily must turn to her rival for help discerning truth from fiction, as her wildest dream becomes a nightmare.

Readings of two new plays: LETHE on June 10 and ALL'S FAIR (SIX WESTERN) on June 13