I've teamed up with fellow writer / actor Nat Cassidy to present a disturbing double-bill of solo performances adapted from and inspired by the man whom Stephen King describes as "the Twentieth Century's greatest practitioner of the classic horror tale," Howard Phillips Lovecraft (1890-1937).  Check out our FOUR rave reviews below!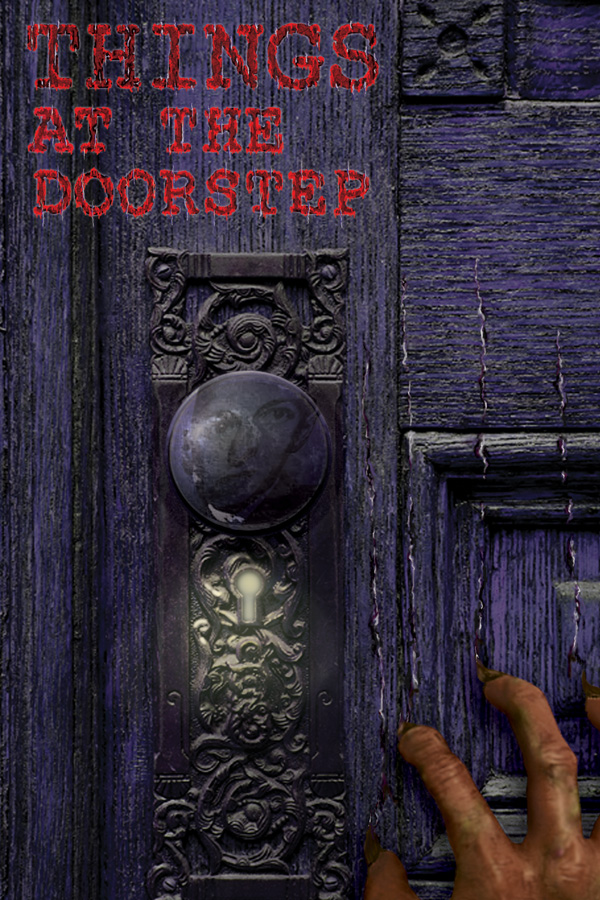 Manhattan Theatre Source Playground Development Series
Proudly presents
THINGS AT THE DOORSTEP
An evening of horror based on the works of H.P. Lovecraft
Written by Greg Oliver Bodine & Nat Cassidy
Directed by DeLisa M. White
Featuring: Greg Oliver Bodine* in The Hound
& Austin Lacher in I Am Providence
Lighting Design by Kia Rogers
Sound Design by Jay Spriggs
Property Design by Jason McKittrick
Stage Manager: Laura Schlachtmeyer.
"Things at the Doorstep is successful for so many reasons. Bodine's performance as the narrator of "The Hound" is that of an expert in this kind of acting…this is Bodine's thing and he is clearly in his element playing this suspenseful and maddened role. Cassidy's play [I Am Providence] puts the Lovecraftian style and themes into modern language and context, and urges the audience toward a deeper understanding of who Lovecraft was and why he wrote the way he did.  Taken together, the two plays make for a unique evening of theater that is entertaining, educational and strangely unsettling."
-Theatre Is Easy (theasy.com)
"The Hound is a smart and lively adaptation by a fantastic actor.  Bodine's performance is gleeful but never ham-fisted (no mean feat, considering he's left Lovecraft's overwrought language unchanged). The production makes excellent use of the tiny, intimate theatre space, creating an air of palpable spookiness with smart set design and well-used sound effects, and the piece is deliciously macabre."
-Tor.com.
"[Nat] Cassidy and Greg Oliver Bodine have devised an evening that puts us smack in Lovecraft's territory of the weird and wild—albeit in startlingly different means and styles. Bodine's The Hound is first; it is a straightforward adaptation of a Lovecraft story of the same name. Bodine plays the one-character piece in a breathlessly overwrought pitched hysteria that captures the tone of the original. The setting and props—much to the glee of my companion, a Lovecraft aficionado—just as lovingly evoke the original, even to the carefully stamped "Miskatonic University" on an upstage crate. The set, dominated by an ornate red chair, is suitably decadent and ominous… A well-realized piece indeed…Clever writing complemented by excellent sound and light—designed by, respectively, Jay Spriggs and Kia Rogers—make for a most entertaining evening…This is pure storytelling, and that's ultimately what Things at the Doorstep celebrates.""
-NYTheatre.com
"It is the most delightful thing we have ever seen anyone pull off on a stage, anywhere, ever, and if you are in New York you must go see it. You must. You REALLY MUST. Things at the Doorstep is playing at Manhattan Theatresource through next weekend. Go. GO."
-Today's Theatre Review, The Rejectionist
Running time: 1 hour-50 minutes with one 10-minute intermission.
An Equity approved showcase. (*appears courtesy AEA)
Mon-Tues, March 14-15, 21-22 @ 8pm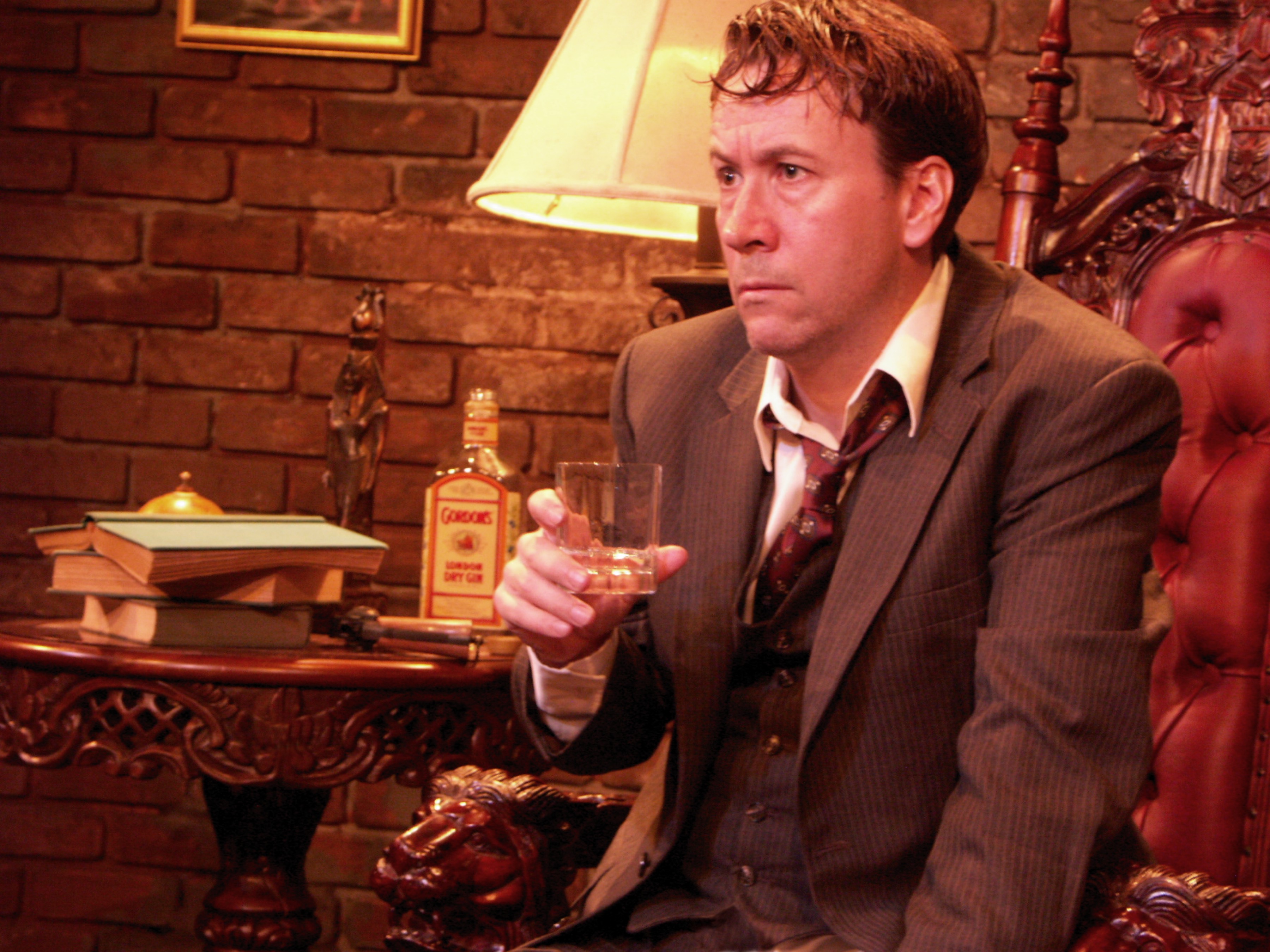 Fri-Sat, March 18-19, 25-26 @ 8pm
Sunday, March 20 @ 7pm
Manhattan Theatre Source
177 MacDougal Street
New York, NY 10011
Betw. Waverly Place and W.8th St.
(1 block north of Washington Square Park)
A/C/E, or B/D/F/V to W. 4th St.
Tickets: $18

Listen to the Feb. 25 nytheatre.com podcast "Lovecraft Live: A Pair of One-man Shows":
www.nytheatre.com/podcast.aspx?p=364
"ELDRITCH GRAVEN IMAGES"
Please join us for the Opening reception of Eldritch Graven Images: A Collection by Jason McKittrick, an H.P. Lovecraft-themed art show, 5-8pm on March 14 in the Landing Gallery at Manhattan Theatre Source.  The exhibit will be on display through March 26.
Watch the promo trailer on YouTube:
THINGS AT THE DOORSTEP will feature:
THE HOUND: Midnight. Late December, 1937. Reed, a discredited archeologist and Aesthete, is running for his life. Having stolen an ancient amulet from the fetid grave of a neglected Holland churchyard, he locks himself in the library of his London townhouse in order to evade the pursuit of some 'malign being.' In shocking detail, he recounts a gruesome testimony of unnatural occurrences surrounding the totem's theft… and the appalling consequences for all who come to possess it.  Critically acclaimed for his solo adaptations of Charles Dickens' A Christmas Carol (2003 NYSCA Grant award-winner) and Edgar Allan Poe's The Cask of Amontillado and The Black Cat, playwright/performer, Greg Oliver Bodine brings H.P. Lovecraft's classic, short horror story, The Hound,  to thrilling life.
I AM PROVIDENCE: In the realm of horror literature, H.P. Lovecraft's reputation as the supreme cultivator of terrifying worlds and visions is unrivaled. However, there is one world so horrifying, so hopeless and bleak, that even Lovecraft himself couldn't have imagined it: a life in the theatre. Written by NY Innovative Theatre Award-winning playwright Nat Cassidy (Any Day Now and The Reckoning of Kit & Little Boots), I Am Providence is a series of Lovecraftian adaptations and musings that highlight the master's insights into our own ephemeral wants and fears, as well as an original portrait of a struggling actor and his reasons for connecting with such morbid material. It is a journey into the heart of an artist that is part biography, part abstraction, and all horror.
THINGS AT THE DOORSTEP: An evening of horror based on the works of H.P. Lovecraft – March 14-26