With the company auditions for my new play just around the corner, preparations for the staged reading of A REQUIEM FOR SHERLOCK HOLMES are well underway!  Hope you can join us in August — it's FREE and open to the public!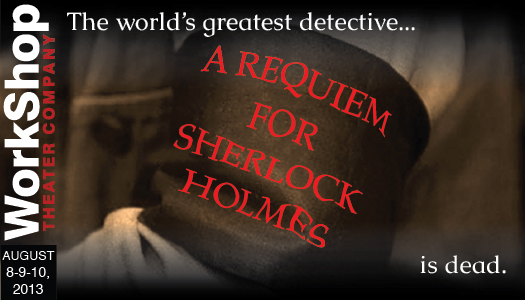 A REQUIEM FOR SHERLOCK HOLMES
Written by Greg Oliver Bodine
Directed by Kathleen Brant †
A 3-Day Staged Reading In The Jewel Box
Thursday – Saturday
Aug. 8-10, 2013 at 8:00pm
Adapted from "The Final Problem" and "The Adventure of The Empty House"
by Sir Arthur Conan Doyle
cast & crew: TBA…stay tuned!
* member AEA / † member SDC
This new, full-length play pits Sherlock Holmes against his greatest opponent — the criminal mastermind, Professor Moriarty, in a dangerous game of cat-and-mouse that ends in a climactic death struggle between the two men above the Reichenbach Falls in Switzerland. Three years later, Dr. Watson, bereft of Holmes and lacking his late friend's superior detection skills, is nonetheless recruited by Scotland Yard to assist with an investigation into the murder of a young, London aristocrat — the Honorable Ronald Adair, who has been discovered fatally shot in the locked bedroom of his 427 Park Lane address. With no apparent motive for the killing and lingering questions about the murder weapon, Watson and the police are left baffled by the 'Park Lane Mystery,' until, just outside the crime scene, the good doctor bumps into a wizened, old book collector, who follows him home and unexpectedly sheds some valuable light on the case.
FREE and open to the public.  Ovation ticket link: (coming soon!)
(limit 2 tickets per subscriber. Please arrive early — all unclaimed reservations will be released before curtain at 7:55pm)
WorkShop Theater Company
312 West 36th Street,
Fourth Floor East
New York, NY 10018
Between 8th and 9th Avenues
www.workshoptheater.org
Join our Facebook Event
Visit the REQUIEM Facebook Page
REQUIEM production News & Updates
REQUIEM YouTube video teaser
WorkShop Theater Company presents a Staged Reading of A REQUIEM FOR SHERLOCK HOLMES Aug. 8-10 @ 8pm